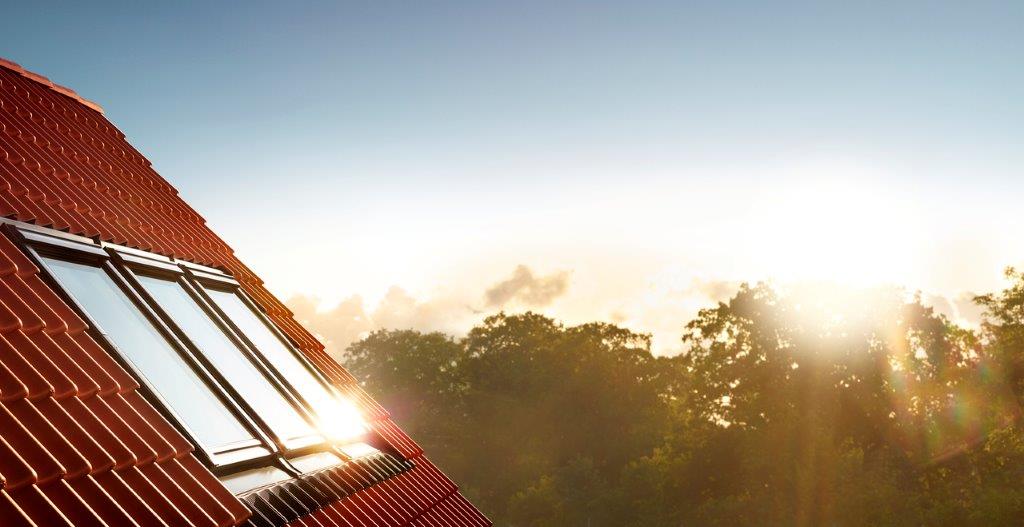 VELUX® have over 60 years' leading the UK roof window market, filling millions of homes with daylight and fresh air. During this time they have developed a huge range of products to help you choose the perfect solution for your project. The six step guide below is designed to help you find that solution, and fill each project with natural daylight.
Step 1 What does your customer want to achieve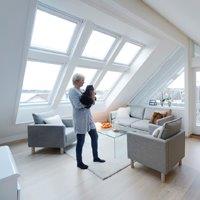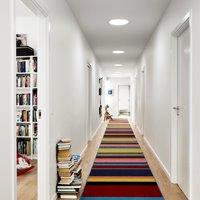 Before choosing roof windows and deciding on their layout, the function of the room and the personal needs of the occupants must be considered.
What kind of room is it? Bedroom, bathroom, stairwell, living room, etc.
Remember – the more daylight a room receives, the bigger it will feel.
Consider increasing the size of the windows or combining them.
Consider the shape and volume of the room when choosing the number and position of the windows.
A deep room will benefit from windows positioned higher in the roof. A wider room will benefit from a series of windows installed at regular intervals.
Step 2 Method of operation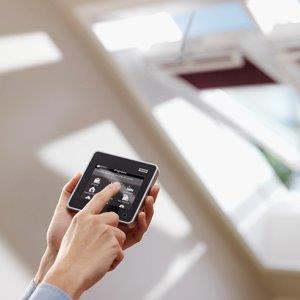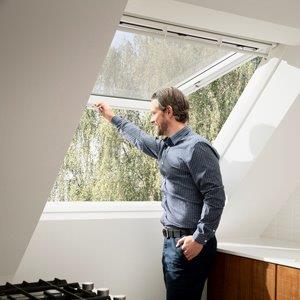 VELUX INTEGRA® electric and solar roof windows
Ideal for out of reach situations. The new VELUX INTEGRA® control pad offers a range of programmes allowing you to control light, heat and ventilation.
Top-Hung
Opens outwards for an unobstructed view and feeling of extra space. Ideal for fire escape purposes.
Centre-Pivot
The top control bar makes it easy to open, even with furniture below the window.
Step 3: Select The Internal Finish
LACQUERED NATURAL PINE
Ideal for a traditional interior. High quality natural pine. Protective triple coat clear lacquer which helps to preserve the timber of the window.
WHITE POLYURETHANE
Perfect for contemporary interiors and white ceilings. Ideal for humid rooms, such as kitchens or bathrooms. The polyurethane mould has no visible joins, ensuring a moisture resistant finish. Requires less maintenance than lacquered natural pine, ideal for out of reach areas. High quality moulded polyurethane with an insulated timber core.
Step 4: Consider the glazing options
VELUX glazing can provide heat insulation, sound insulation, added strength and protection from the elements. The guide below helps you to select the right glazing for your project. For example, if you live in an area with a high level of external noise, consider the 'Comfort 60' or 'Sound 62' noise reduction glazing options in order to reduce noise intrusion into your home…

Step 5: Choose flashing and installation products
To further improve energy performance it's important to insulate around the edge of the roof window. VELUX® have created a range of installation products to make it quicker and easier for you to meet building regulation requirements and provide a more comfortable indoor environment.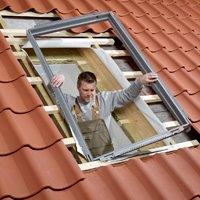 A flashing ensures a weather tight installation and comes in either recessed or standard options. Recessed flashings will provide a more energy efficient installation whilst giving a streamlined finish on the outside.
An insulation collar further reduces heat loss and eliminates cold bridges around the roof window. This makes it quick and easy for you to be compliant with building regulations.
An underfelt collar ensures a weather tight seal and provides additional waterproofing. Again, this helps you to meet building regulations.
The vapour barrier helps prevent the build-up of condensation in the roof construction. Ideal for making your installation air tight.
Step 6: Add the finishing touch
VELUX blinds, roller shutters and awnings not only look good, but also play an important role in managing heat and light, shading a room when it gets too sunny, and preventing heat loss..
VELUX roof windows are filtted with pre-installed brackets to ease installation and to help you achieve a perfect fit every time. Locate a branch near you