Wakaflex is a lead free, flexible, adhesive flashing designed to replace lead in most modern roofing applications. The product has many advantages over traditional lead roof flashings and abutments for those working in the construction industry, including the simple and quick installation process and non-toxic, lightweight material.
Easy application through high stretchability in both directions of the material and has a unique product composition with a self-welding effect.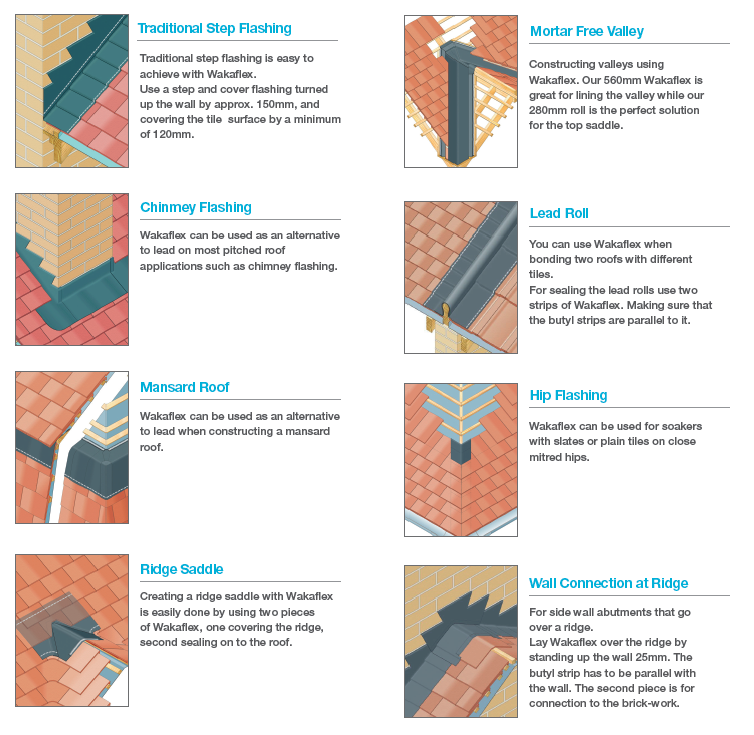 Product features & benefits
• Appearance of lead
• Light and easy to use
• No scrap value means Wakaflex® is not at risk of theft
• No welding required
• Quick to install
• British Board of Agrément Certified
Areas of application
• All wall abutments
• Chimneys and other rising parts of structures such as dormers
• Pipe flashings
• Top saddle
• Dormers and rooflights
• Easy to apply over deeply profiled tiles and around corners
• Metal and polycarbonate
Material
Polyisobutylene (PIB) with aluminium-meshwork and butyl-adhesive tape
Colours & Sizes
Wakaflex® comes in a 5m roll in five different widths: (140mm, 180mm, 280mm, 370mm, 560mm). It is available in four colours
to blend in with the roof: (Light Grey, Anthracite Grey, Red and Brown).
For more information about Wakaflex or the Klober range of ventilation options visit your nearest SIG Roofing branch today.