FIX-Rcryl Roof Repair System
FIX-Rcryl roof coatings are a low odour, low VOC, solvent based acrylic resin system for use when waterproofing various roofing systems such as flat and pitched roofs, bituminous felt, asphalt, gutters, concrete, brickwork, metal surface.
Available in 5 kg – (covers approx. 2.5 – 5m²) and 20 kg – (covers approx. 10 – 20m²).

Typical Applications

Flat or pitched roofs

Domestic or commercial refurbishment

Patch and repair

Advantages

Low odour and VOC emissions

Ready to use straight from the can

Cold applied

Cost effective

Flexible and durable

Instant shower protection

Fibre reinforced for gap filling

Unaffected by temperature

Bridge gaps up to 10mm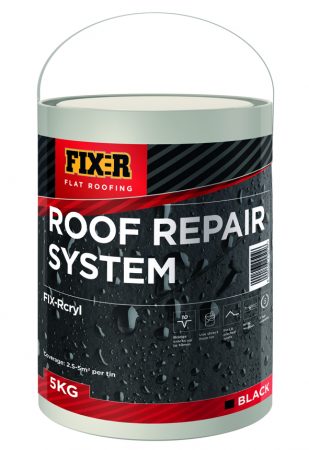 Limitations

Must be kept away from ignition sources

Good ventilation is needed during and after application

Toxic to aquatic animals, must be kept away from ponds

Not suitable for walkways or balconies

Not suitable for use on PVC or timber or for internal use
Product Specifications
Product Variations
| Product | Size | Product Code |
| --- | --- | --- |
| FIX-Rcryl Grey | 5kg | 10210391/127800005 |
| FIX-Rcryl Grey | 20kg | 10210392/127800010 |
| FIX-Rcryl Black | 5kg | 10210393/127800015 |
| FIX-Rcryl Black | 20kg | 10210394/127800020 |
| FIX-Rcryl White | 5kg | 10210395/127800025 |
| FIX-Rcryl White | 20kg | 10210396/127800030 |
Registered Office: SIG Trading Limited, Adsetts House, 16 Europa View, Sheffield Business Park, Sheffield, S9 1XH. Registered in England No. 01451007 VAT No. GB 487 01733