Liquid Roofing
FIX-R Liquid Roofing System is the latest innovation in liquid roofing technology combining the benefits associated with existing alternative products to create a new system which is very user friendly. FIX-R Liquid Roofing offers the UK a cold applied seamless liquid waterproofing membrane that is totally non-hazardous, is completed in one pass and designed with the Northern European climate in mind.
It is fully reinforced with a polyester membrane and cures naturally through contact with moisture in the atmosphere.
FIX-R Liquid Roofing is a single component modified polyurethane, moisture curing coating applied in multiple layers in conjunction with a polyester reinforcing fleece. The coating is vapour permeable, and suitable for use on both new and remedial projects.

Typical Applications

Small or large commercial projects

New or refurbishment

Gutters

Profile roofs

Complex detailing, up-stands, penetrations and terminations

Over-coating failed single ply or existing coatings

Advantages

Cost effective wet-on-wet application

Minimum wastage - unused product can be stored and reused

Cold applied

Water repellent on application

Ready to use, single liquid component

Fully reinforced with polyester fabric

Can be applied all year round above 5°C

Can be re-coated

Strong adhesion to most conventional substrates

Excellent elasticity and tensile strength

Resistant to standing water

No shrinkage - 100% solids

UV stable

Vapour permeable

Non hazardous - solvent-free and virtually odourless

Extremely low VOC's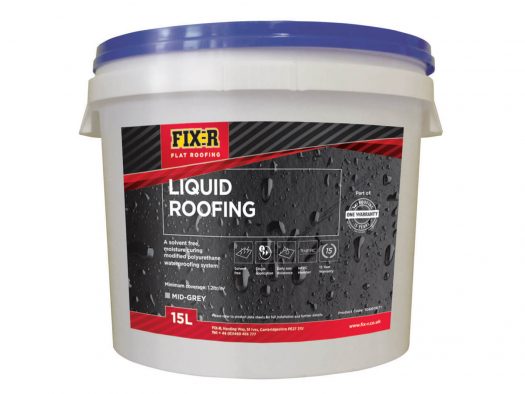 Limitations

Can't be applied in the rain

Must be used with Fabric
Product Specifications
Fabric
Use FIX-R Fabric to fully reinforce FIX-R Liquid Roofing, creating a flexible and strong waterproofing system.
Fabric Sizes:
25m x 1m (for field area)
25m x 250mm (for detailing and upstands etc.)
25m x 100mm (for board joints)
Stain Blocker Primer
FIX-R Stain Blocker is a high build primer designed to be used on all bitumen substrates before the application of the main Liquid Roofing.
FIX-R Stain Blocker is bright blue in colour and designed to promote adhesion to all bitumen based surfaces
All chippings and ballast must be removed from the substrate; the surface must be cleaned thoroughly by power washing and then sealed with FIX-R Stain Blocker
GP Primer
A water based, low viscosity white primer intended for adhesion promotion on:
PVC Single Ply Membrane
Treated and Untreated Wood
GRP
Approved Insulation Boards
OSB3 Decking Boards
Apply only when atmospheric and substrate temperatures are greater than 5°C
The surface of the substrate should be clean and dry and must be 3°C above the dew point
Jointing Tape
FIX-R Jointing Tape is a polyester reinforced self-adhesive tape designed to seal joints and seams prior to the application of the FIX-R Liquid Roofing System. It replaces the need for the 100mm wide reinforcing fabric and liquid application reducing overall installation costs.
Seals telescopic tube fasteners in a mechanically fixed insulation system
Excellent adhesion to most substrates
Water resistant immediately after application
Available in rolls of 25m x 100mm
Registered Office: SIG Trading Limited, Adsetts House, 16 Europa View, Sheffield Business Park, Sheffield, S9 1XH. Registered in England No. 01451007 VAT No. GB 487 01733