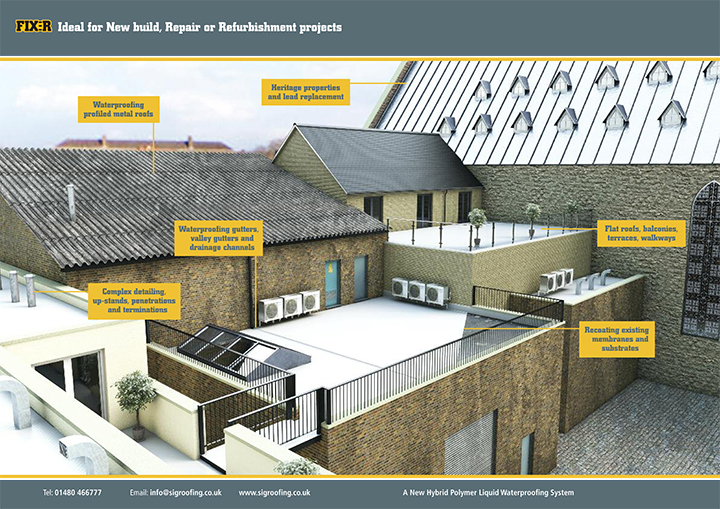 Liquid Waterproofing
FIX-R Liquid Waterproofing System is a new hybrid polymer liquid waterproofing system based on alpha–hybrid silane terminated polyether technology. While it exceeds most performance criteria for polyurethane, PMMA and other solvent based systems, it also eliminates many of the disadvantages associated with these products.
It is fully reinforced with a polyester membrane and cures through contact with the moisture in the atmosphere. Being largely independent of the weather it can be applied under practically any conditions, even on cold, wet days and on damp surfaces.
It is ideal for:
New build, repair or refurbishment projects
Flat roofs, balconies, terraces, walkways
Complex detailing, up-stands, penetrations and terminations
Recoating failed single ply roofs
Fix-R Primer
A highly penetrating, cost-effective acrylic primer maximizing adhesion of subsequent coats and eliminating the risk of migration of asphaltic oils
Enhances the adhesion of FIX-R Liquid Waterproofing over built-up, modified bitumen, mineral felt, untreated timber or previously coated surf
Develops a tenacious bond to existing roof substrates
A low-viscosity, highly penetrating, advanced acrylic polymer primer
Provides a cost-effective & flexible, waterproof base for FIX-R Liquid Waterproofing
FIX-R Primer blocks the migration of asphaltic oils eliminating the risk of bleed through
Fix-R Fabric
Use FIX-R Fabric to fully reinforce FIX-R Liquid Waterproofing, creating a flexible and strong waterproofing system.
Fabric sizes available:
50m x 1m
50m x 250mm
50m x 150mm
For more information and data sheet downloads please vist the FIX-R website FIX-R.co.uk