Ahead of the festive period, SIG Roofing's Crewe branch has launched its Christmas charity gift appeal for disadvantaged children.
Working in partnership with the Salvation Army, the SIG Roofing Crewe branch will be accepting gifts until mid-December to bring festive cheer to children who might not otherwise receive a Christmas present this year. SIG Roofing is welcoming new and existing customers to take part in this year's charity gift appeal at the Crewe branch, located on Middlewich Road.
Jessica Clowes, branch manager at SIG Roofing Crewe, said: "We are thrilled to be hosting the Christmas gift appeal with the Salvation Army. We want to give something back to the community this year, and have already received a selection of gifts ranging from cuddly toys, dolls and books, all of which have been kindly donated by our customers and suppliers and with hopefully more to come.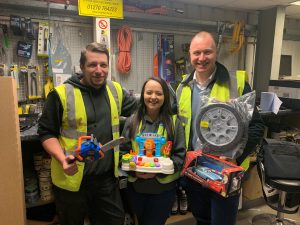 "The Salvation Army is a fantastic charity and not only are we pleased to be supporting but also promoting awareness within the local community. We look forward to receiving gifts for a great cause all whilst spreading festive cheer."
SIG Roofing is the UK's leading specialist supplier of pitched, flat and industrial roofing solutions, with over 100 branches located across the UK.
For further information on our products, please click here, or follow us on Twitter.