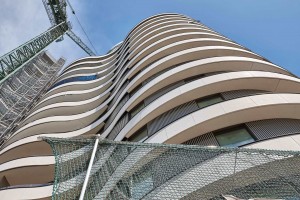 What is Hydrostop EU AH-25?
A wet-on-wet, cold applied liquid waterproofing product
Fully reinforced with a polyester fabric
Free of solvents and isocyanates
Very low in VOCs, fume free, virtually odourless
Custom colours to order
Alternative to coloured single ply
It's exclusive to SIG Design and Technology
 How is Hydrostop EU AH-25 supplied?
No waste – a single liquid product in a re-sealable tub
Exclusive to SIG Design and Technology
Where should I use AH-25?
Refurbishment to existing roofing e.g. over built-up felt systems, mastic asphalt, single ply, profiled metal or fibre cement
For repairs where existing roofing material has failed
For complex roofs, including new build e.g. complex detailing, upstands, edge details, penetrations and terminations. Where there's roof-mounted plant. On balconies where single ply's difficult to detail
On inverted roofs including roof gardens, it's roof resistant and FLL approved (root resistant)
For combined pitched and flat roof applications of S1-S4 (<5% to >30%)
Where single ply, felt roofing or hot melt is not suited
 What is Hydrostop EU AH-25's customer appeal?
No hazardous chemicals – can be used on sensitive projects e.g. schools, hospitals and food production etc.
No need to disrupt building occupancy
No heat or flames during installation
BBA certified & fire tested to DD ENV 1187:2002 ( Fire Rating Is BroofT4)
25 year warranty from SIG plc (extendable)
AH-25 can perform for lifespan of building
Can only be applied by an AH-25 approved contractor
What is Hydrostop AH-25's Installer Appeal?
Virtually odourless & fume free
No additional respiratory PPE at installation
Ideal for complex detailing/hard to access areas
Convenient and ready to use
For combined pitched and flat roof applications of S1-S4 (<5% to >30%)
and surface temperatures down to 0°C
Cold applied, fast curing, can apply wet on wet
No waste – a single liquid product
About Hydrostop AH-25 Installer Training
Can only be installed by AH-25 trained operatives
One day course comprising theory and practical
Operatives tested on theory and practical skills
Opportunity to join DATAC accredited installer scheme
Only DATACs are offered SIG warranties & technical support
Typical Hydrostop AH-25 Applications
Schools
Offices
Healthcare
Military installations
Sports facilities
Flats and condominium roof terraces
Domestic properties
How can I find out more on liquid waterproofing?
Download the new AH-25 brochure at  www.singleply.co.uk/flat-roofs/hydrostop-eu-ah-25/
Read more about the benefits of liquid roofing and other flat roofing materials at www.singleply.co.uk/blog/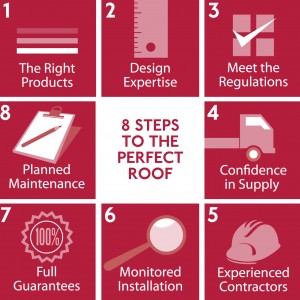 To support SIG customers whatever the project, SIG Design & Technology has put together an 8-step guide to identify the challenges and ensure that a roof's design meets a building's requirements. Called "#Perfect Roof", the eight steps follow the process from product selection and design expertise through to full guarantees and planned maintenance. This know-how is just part of the service that is provided absolutely free to customers and includes green roofing.