All Haus Profi™ products in the range have been developed as lead-free alternatives. Wakaflex a flexible lead free flashing which can chemically bond to itself is the perfect solution for sealing abutments and pitch transitions on roof up stands, dormers, chimneys and walls as well as providing a stepped, roof light and solar panel flashing. Being non-toxic, Haus Profi products are suitable for use with rainwater harvesting systems and present no lasting health hazard. The Wakaflex Uni Outlet and Sabetoflex sealing collars are ideal for applications including sealing gas and wood burner flues through pitched and flat roofs.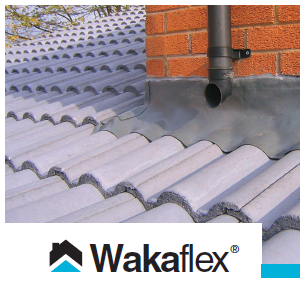 Wakaflex® is a flexible, self-adhesive flashing designed to replace lead in most modern roofing applications.
Appearance of lead
Light weight and easy to use
No scrap value
No welding required
Quick to install
British Board of Agrément Certified
 EasyFlash® is a lightweight, universal flashing for the sealing of abutments between walls and roof tiles.
Highly durable – metallic surface gives similar expected lifespan to lead and zinc
Wide application area: wall connections, dormer and chimney abutments
4 colours to blend in with roof
Universal – flexible material suitable for all tile, clay and slate profiles
Self-fixing to dry surfaces with adhesive butyl strip
Quick to install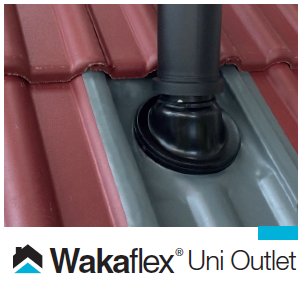 Wakaflex® Uni Outlet is a lead-free, flexible, adhesive sealing collar where flue pipes and soil stacks penetrate the roof.
Universal sealing of flue pipes and soil stack penetrations
Suitable for pitched roofs 18o – 45o
Ease of handling and installation
Aesthetically pleasing with a high quality finish
Long life due to polymer surface of Wakaflex and high quality EPDM material
Suitable for concrete, clay tiles and slates