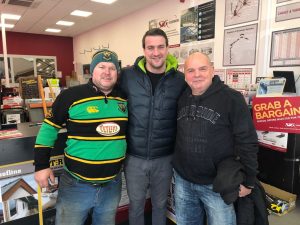 SIG Roofing welcomed rugby legend Lee Dickson to its Northampton branch for a one off open day where fans were able to take part in a meet and greet with their hero.
The ex-English Rugby Union and Northampton Saints star, who currently plays scrumhalf for Bedford Blues, attended the recently refurbished roofing supplier located on Millbrook Close to keep the customers' spirits up as they braved the freezing temperatures experienced across Northampton last week.
Lee commented: "The fans in Northampton have always been so supportive of me and the club. The day was a great opportunity to get out and meet those that have cheered me on from the stands for years. I'm no stranger to working outside but I don't envy these guys day in day out working outdoors in these freezing temperatures and they still had a smile on their faces when they came through the door."
During the event, Lee met with local roofers and signed their beloved Saints shirts and memorabilia. Visitors were treated to breakfast and warming refreshments to set them off for the day, as well as a whole host of special offers on products in branch.
Branch manager, Michael Crouch, commented: "Northampton has always been a rugby town and our customers are proud supporters of their local club, that's why the event was a great opportunity to thank them for supporting our branch and giving them the opportunity to meet one of their sporting heroes."
SIG Roofing is the UK's leading specialist supplier of pitched, flat and industrial roofing solutions, with over 100 branches located across the UK.