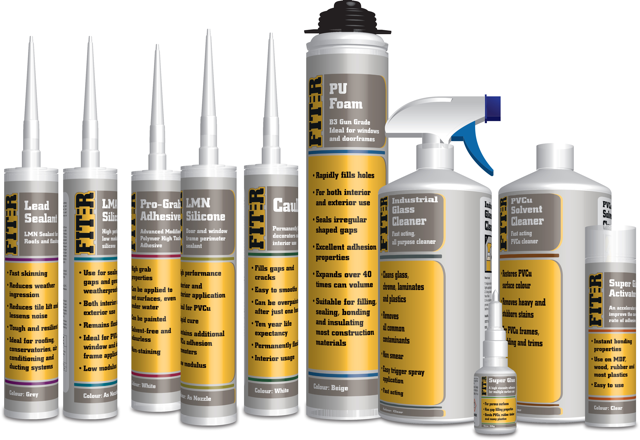 SIG Roofing introduces the new FIT-R Silicones and Sealants range to its branches – the latest products to be launched by FIT-R, which houses cellular, roofline and rainwater products, along with general purpose fixings.
FIT-R Silicones and Sealants join Gutterbrush, which was launched in November 2015, as part of FIT-R's roll out plan, with more products to be introduced in the near future.
The new product range was developed following feedback from research and trials undertaken throughout the UK. In addition, FIT-R carried out in-depth research to ensure the quality and pricing was competitive from the off.
The new range includes 10 individual products:
FIT-R Pro-Grab Adhesive: High quality adhesive suitable for internal and external use, in all weather conditions.
FIT-R LMA Silicone: Used for sealing gaps and general weatherproofing, suitable for exterior and interior applications.
FIT-R LMN Silicone: High performance, door and window frame perimeter sealant
FIT-R Lead Sealant: Fast skinning LMN sealant that reduces weather ingression, tile lift and noise.
FIT-R PU Foam: B3 Gun grade, ideal for sealing window or doorframe cavities. Suitable for sealing, bonding, filling and insulating most construction materials.
FIT-R Caulk: Quick drying, permanently flexible decorators caulk.
FIT-R Industrial Glass Cleaner: Fast acting all-purpose cleaner with non-smear formulation. Trigger spray for easy application.
FIT-R PVCu Solvent Cleaner: Fast acting cleaner that removes ingrained dirt and restores surface colour from PVCu materials.
FIT-R Super Glue: A high viscosity adhesive for multiple surface use.
FIT-R Super Glue Activator: An accelerator to improve the cure rate of adhesive, with instant bonding properties.
Amanda Green, Marketing Manager for FIT-R commented: "The customers are at the forefront of every new product we develop. We make sure every product within FIT-R stands up to our key brand values of: quality, value, competitiveness, consistency and reliability.
We're excited that all 10 products will be added to SIG Roofing's Core Range, always in stock, always available – making our customers' lives that little bit simpler."
FIT-R Silicones and Sealants are available now in all SIG Roofing branches nationwide. Many new products are also currently in development as FIT-R look to further bolster its offerings, giving you the right solution for the job.