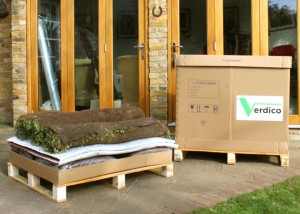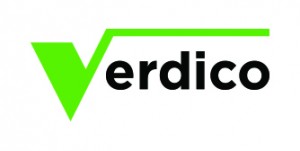 VerdiRoof – a complete Green Roofing System in one delivery
that's accessible, affordable and desirable.
What is VerdiRoof?
VerdiRoof is a complete Built-Up Green Roofing System in one delivery
VerdiRoof has enhanced green credentials
It's exclusive to SIG Roofing
How is VerdiRoof supplied?
10m2 of VerdiRoof per pallet
Up to 250m2 can be delivered in one load
No waiting for individual components
What are the choices of VerdiRoof covering?
The Verdico sedum blanket is 25 mm thick with 10 species per every 30m2 and offers minimum 85% coverage for a complete green roof on the day of installation.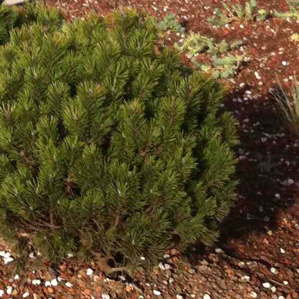 VerdiRoof plug plants and native wild flowers are installed 15/20 per m2 for 10% plant coverage at installation which is ideal for specific biodiverse or unique applications.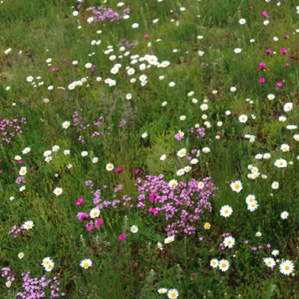 VerdiRoof seed system comprises roof tolerant wildflowers, grasses and sedum cuttings which germinate and grow over 2/3 growing seasons. Good for large roofs/restricted budgets.
Where should I use VerdiRoof?
Suitable for or warm/cold/inverted roof build up
Schools
Offices
Healthcare
Military installations
Sports facilities
Flats and condominium roof terraces
Domestic properties
What's VerdiRoof's customer appeal?
Enhanced green credentials
UK sourced growing medium made from
Pumice, bark compost, and unique carbon capture pellet
Each m2 has CO2 footprint of minus 7kg
Source: Tested by University of Greenwich
Why should we use Green Roofing?
For the building
Substantially increases membrane life expectancy
Protects it from UV climatic degradation
Improves energy efficiency in warm roofs
Enhances sound insulation by up to 8dB (decibels)
Makes good use of space – optimises 'structural footprint'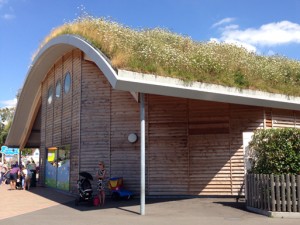 To assist urban drainage
Reduces rainwater run-off rate
Absorbs 50% of rainfall
Assists storm attenuation
Reduces pressure on drains
Useful tool in a sustainable drainage strategy (SUDs)
To counter urban heat-island effect
Green roofing helps cool buildings
Reduces heat build-up in
urban areas
Air conditioning can be reduced
or avoided
Infra-red photography shows green roof is much cooler than conventional sections of roof
To support SIG customers whatever the project, SIG Design & Technology has put together an 8-step guide to identify the challenges and ensure that a roof's design meets a building's requirements. Called "#Perfect Roof", the eight steps follow the process from product selection and design expertise through to full guarantees and planned maintenance. This know-how is just part of the service that is provided absolutely free to customers and includes green roofing.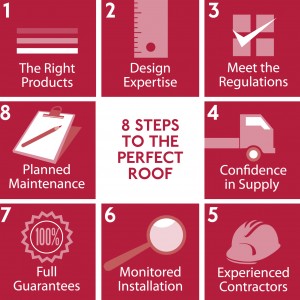 To find out more about green roofing knowledge, two blogs, Green Roof Systems: An Overview and How much will a green roof weigh? are available on line at http://www.singleply.co.uk/blog/
 Contact: 01509 505714 http://www.singleply.co.uk/green-roofs/