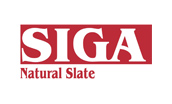 It's human nature to battle between cost and quality when it comes to buying anything. Do you go for the coat that costs £250 that will last, keep you warm and look great, or do you go for the £30 coat which will probably be looking a bit disheveled within a couple of months and offers no real protection against the cold? We all know, given the choice, which one we'd go for — we want the protection and we want it to look good.
So, when it comes to slate, super extended warranties may seem appealing at first glance — and they normally accompany the cheaper priced slate — but tread with caution. Be wary of 'lifetime' guarantees, for, regardless of their duration, if the quarry ceases production, in some cases, the warranties are not worth the paper they are written on.
When making your product selection, you have to consider the reputation and credibility of your supplier. If problems surface further down the line, and support becomes necessary, these attributes will far outweigh any initial savings that you may have made by sourcing cheaper products
With SIGA slate you have no such worries. As well as robust warranties and case histories, we have invested in our suppliers and supply chain, and are in it for the long haul. More importantly, when you buy a premium branded slate such as SIGA — now celebrating 10 years of supply — all warranties will be honoured, even if the actual slate quarry that supplies the slate goes into liquidation. It's always a great feeling in this trade when you can ensure quality and value.
So, when it comes to choosing natural slate, ask yourself whose warranty do you really trust? As you choose to do business with a particular supplier, remember that their honesty and integrity impacts on your reputation too; so it pays to choose wisely. Beware of far-fetched warranties and protect yourself and your client at all costs.
For further information on the SIGA natural slate collection, contact 01480 466 777 or visit www.sigaslate.co.uk