Take advantage of our great offer – available until 31st October 2017!
Buy any 3 tubs of FIX-R Liquid Waterproofing in a single transaction / invoice and get 4 FREE Armatool 10″ Roller Sleeves & 1 Frame*
FIX-R Liquid Waterproofing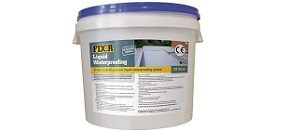 Is a new hybrid polymer liquid waterproofing system based on alpha–hybrid silane terminated polyether technology. While it exceeds most performance criteria for polyurethane, PMMA and other solvent based systems, it also eliminates many of the disadvantages associated with these products.
It is fully reinforced with a polyester membrane and cures through contact with the moisture in the atmosphere. Being largely independent of the weather, it can be applied under practically any conditions, even on cold, wet days and on damp surfaces.
Making it ideal for:
• New build, repair or refurbishment projects
• Flat roofs, balconies, terraces, walkways
• Complex detailing, up-stands, penetrations and terminations
• Recoating failed single ply roofs
Armatool 10" Roller Sleeves and Frame
Comes with a strong and easy to grip handle plus a sturdy metal roller which makes it ideal for applying liquid to most surfaces with very few bubbles. This roller allows you to apply an even coat fast and effortlessly.
About FIX-R
FIX-R and FIX-R Classic range of products launched nearly 10 years ago, starting with Torch on Felt available in both APP and SBS. Since then in excess of 500,000 rolls of felt has been sold and the range has expanded to include repair, paints, primers, liquid waterproofing and EPDM products.
FIX-R works with leading manufacturers who have demonstrated an exceptional technical understanding of the marketplace. FIX-R utilises the latest technologies available, to provide solutions to most flat roofing jobs.
To find out more about FIX-R click here.
*Available whilst stocks last – limited number of Armatool 10″ Roller Sleeve & 1 Frame available T's&C's apply
Full T's&C's apply, click here for details.