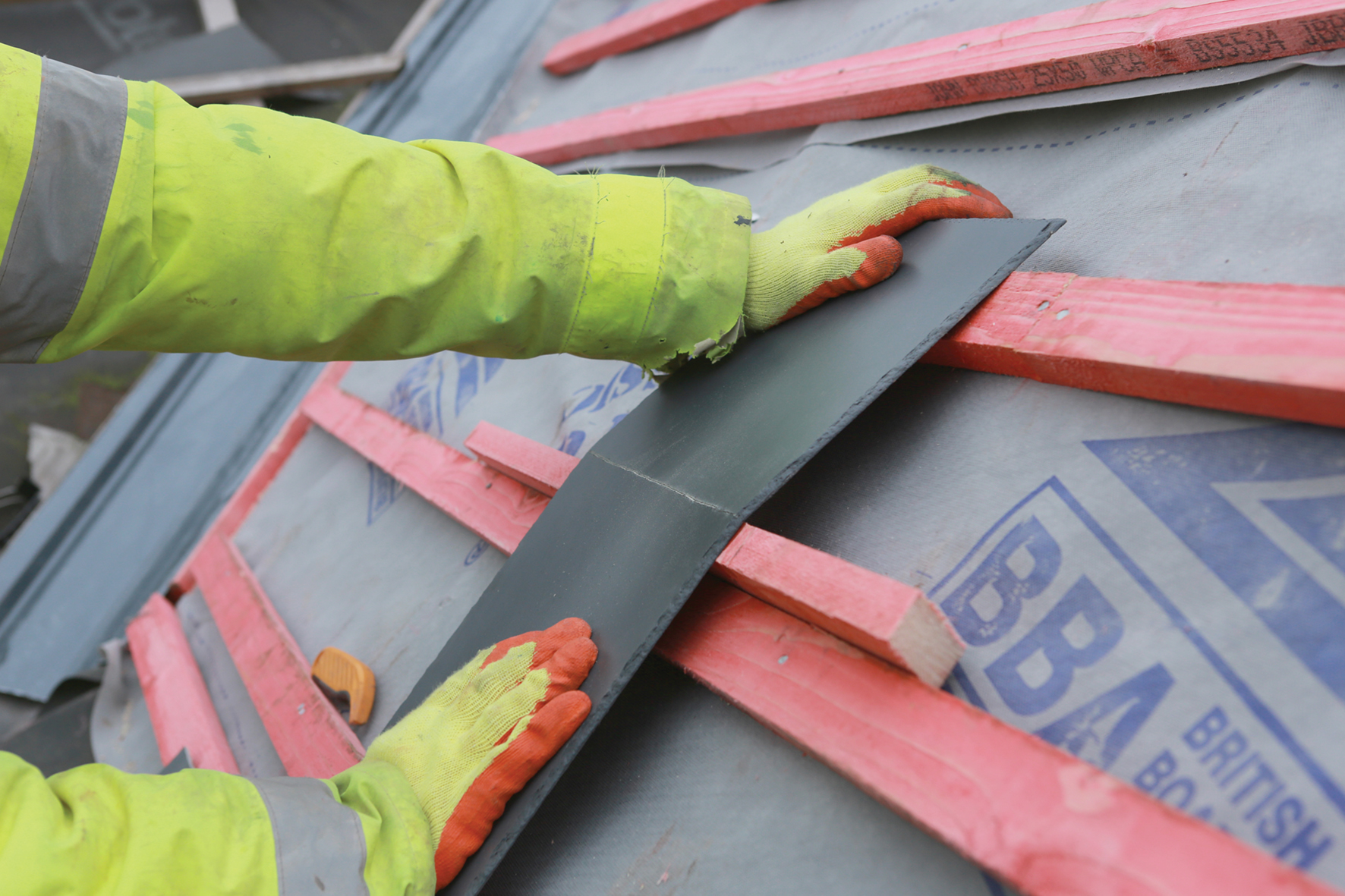 Using fibre cement slates can reduce the risk of exposure to potentially harmful dust and lower the costs of onsite cutting.
To protect our health and reduce our exposure to silica dust, in 2012 the Health and Safety Executive (HSE) and National Federation of Roofing Contractors published safety guidance for the controlled cutting of all roof tiles and slates. Four years on, following the advice is more important than ever, particularly when you consider the number of construction workers who suffer from detrimental health effects caused by exposure to silica dust.
For verges, abutments and openings, ridges, hips and valleys the guidelines are pretty clear:
Mark and cut tiles off the roof surface, either on the ground or an area set aside on the scaffolding
Use water suppression and respiratory protective equipment (RPE)
Ensure a minimum water flow rate of around 0.5 litres per minute for effective dust suppression unless otherwise stated by the manufacturer
The HSE also recommends that to reduce risk even further, tiles and slates should be hand cut wherever possible, which helps explain why demand for fibre cement slates has grown over the last four years. The fact you can cut them by hand on site is just one of the reasons they are becoming so popular. For example, Marley Eternit's range of fibre cement slates are available in uniform size, shape and thickness, and can all be scored and snapped, or cut with a guillotine or reciprocating saw. It makes them very quick to install without the need for water suppression.
Not only does this further reduce the risk of exposure to silica dust, it can also have a significant impact on cost; you avoid the additional expense of dust suppression equipment and the time and labour involved going up and down ladders to cut tiles.
As well as fibre cement slates, Marley's range of clay and concrete interlocking tiles can also help reduce the need for cutting and fixing small sections of tiles. Dry Fix solutions such as cloaked verge tiles, which incorporate half tiles to help with setting out, and dry valley troughs which reduce the need for precise raking of cut tiles, can also save on cutting time.
For a reminder of the full controlled cutting guidance, visit www.nfrc.co.uk/docs/health-and-safety-guidance-publications.