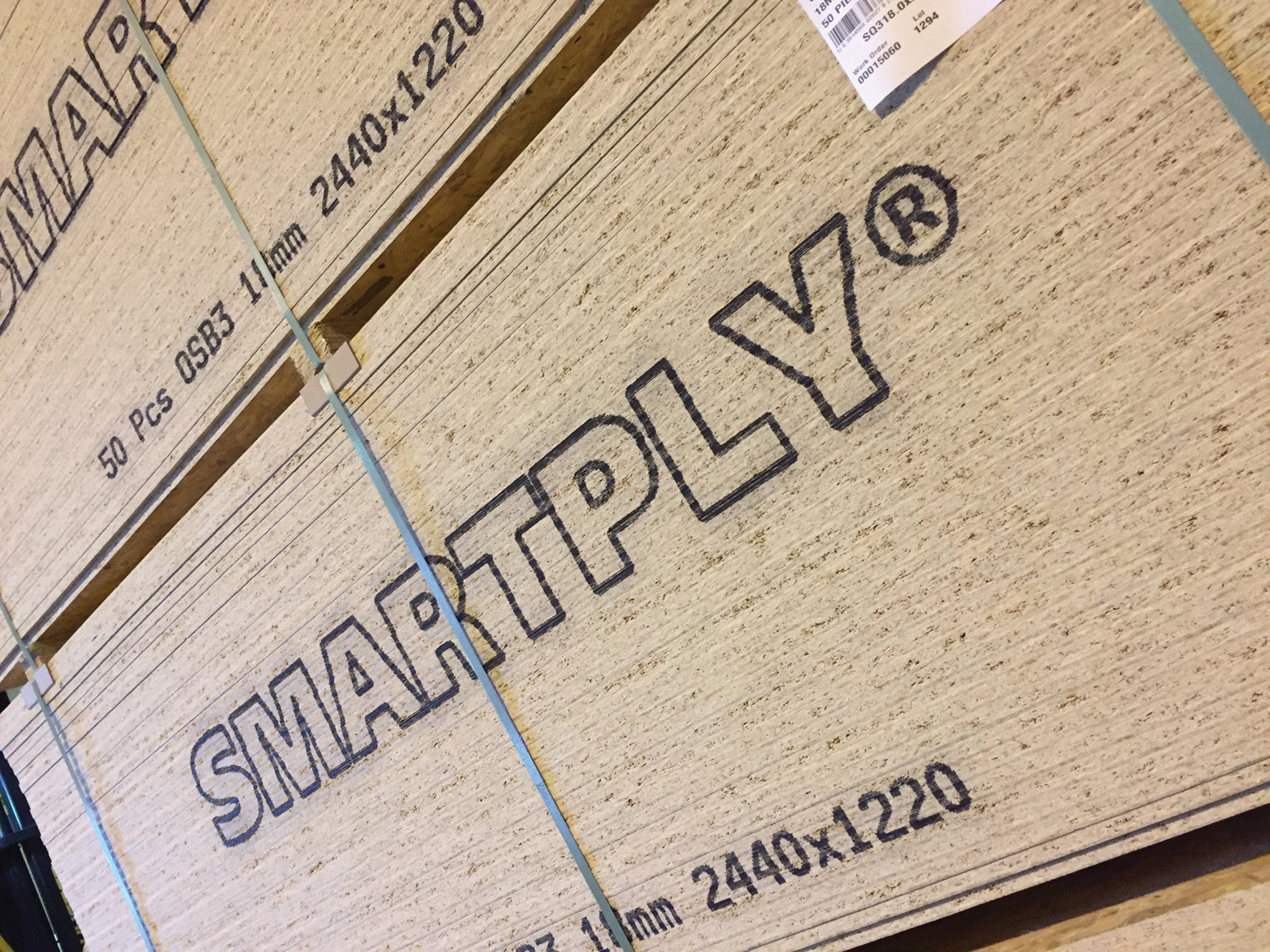 Customer-led innovation is at the heart of the new and improved SMARTPLY OSB.
Sometimes you don't know what you've been missing until something new comes along. Who, for instance, can imagine living a day without checking emails or walking around without their mobile phone? It's only when something truly different is created that you realise what you needed in the first place. SMARTPLY has done just that with their engineered timber panels, and the results are outstanding.
ENGINEERED FOR PERFORMANCE
Not all engineered boards, such as OSB (Oriented Strand Board), are created equal. Unsurprisingly, many people don't fully understand the difference or, more importantly, where the 'engineering' fits in.
A big hint is in the first part of the name: 'oriented'. Unlike plywood, which is built up from thin layers of wood veneer, OSB consists of individual strands and flakes of wood. These are bonded and specifically arranged in a three-tier structure, with the strands in the outer layers oriented in the same direction as the panel length, and those in the core layer at right angles to it. It is then subjected to intense heat and pressure, which form the final panel.
The result is a solid board with no core gaps that will not delaminate under normal use. In short, the flakes are positioned for a reason and therefore the panels are 'engineered'. This structure gives OSB a great deal of strength, which means it is the perfect, reliable substrate for roofing applications.
CUSTOMER DRIVEN INNOVATION
After extensive customer research and a 59m investment in new press technology, SMARTPLY have taken their OSB to an even higher plane of quality and design. The result is the flattest, straightest and most accurate form of SMARTPLY yet.
Easy to use and install, this latest addition to the market is set to change the industry at a time when roofing contractors, builders and architects are demanding even higher quality and performance. To reinforce their customer commitment, the company have installed a new tongue and groove line to increase capacity and improve product quality even further.
SMARTPLY's customer commitment doesn't stop there. In response to feedback from SIG Roofing, they have also worked in collaboration with Scott Bader to create a resin that coats the OSB to keep it flat and mould the texture of the board to make it sticky. This provides the perfect key and additional adhesion for Scott Bader's Crystic® GRP system.
Stuart Devoil, SMARTPLY Marketing Manager, said: "Customers have been quick to react to our new SMARTPLY with universally positive feedback. Its strict dimensional tolerance, flatness and outstanding surface have received particular comment. Working with SIG Roofing and Scott Bader, we believe we've introduced a truly market leading panel to our industry."
Now that's a SMART way of working.