Foam adhesives are fast becoming the go-to material for installers to bond insulation materials in flat roofs
Finding efficient working methods to ensure projects are completed on time and to budget is more important than ever. If it saves you time, does a great job and stops you getting called back, then it's a winner. Adhesive products do all that and more.
When insulating a roof, if you use the right materials and apply the adhesive correctly, there should be no need to penetrate the roof substrate. This is important, particularly if you're refurbishing an existing roof and don't know the position of pipes or cables under the surface.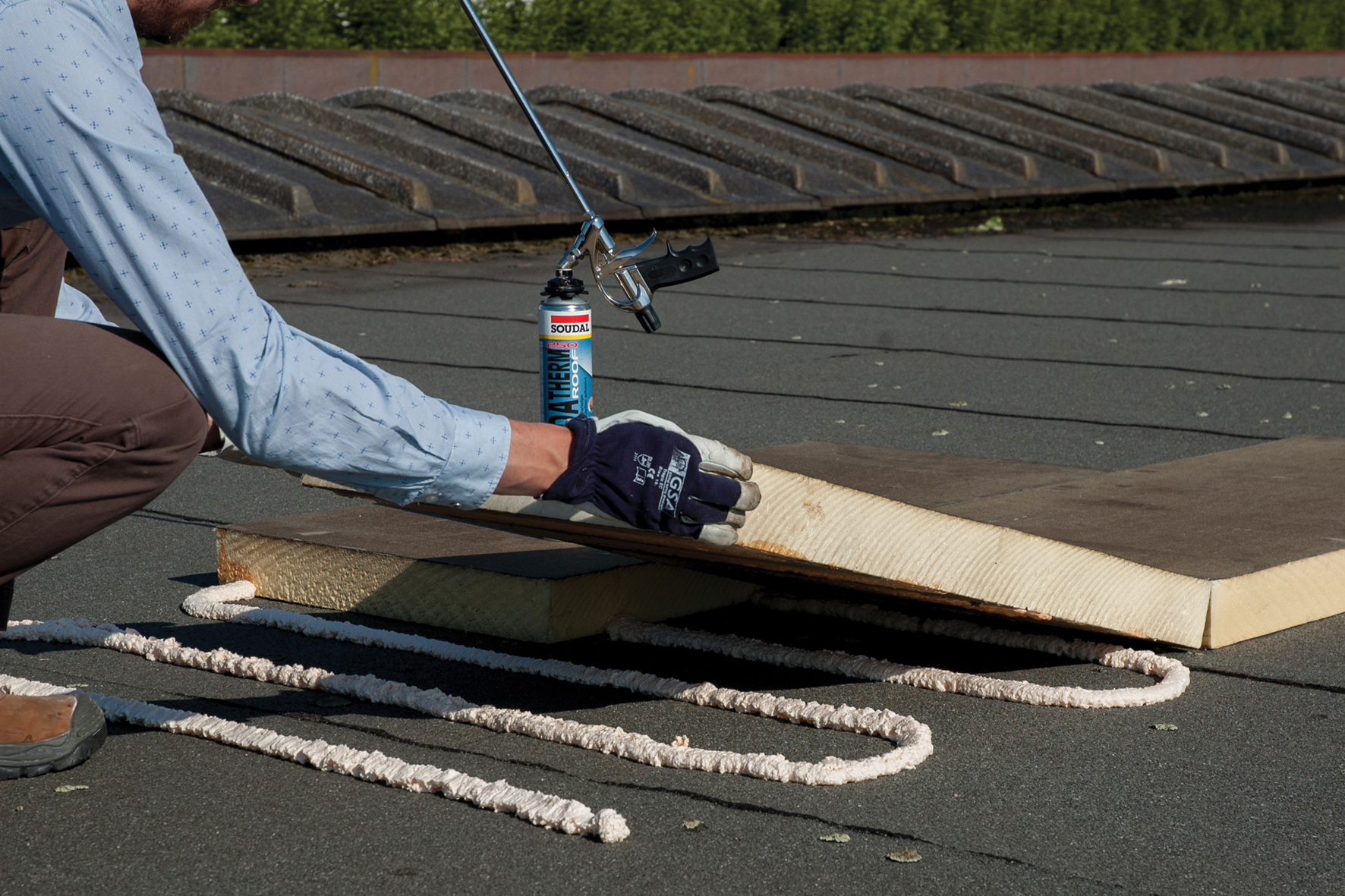 LIQUID OR FOAM?
Liquid polyurethane adhesives have long been the most common type of cold-applied adhesive used to bond insulation materials. Modern formulations are solvent–free, so compatible with more sensitive insulation materials such as polystyrene and they are safer for the installer to use. However, new to the market are polyurethane foam adhesives that, in most cases, will out-perform liquid based products.
How does foam benefit the installer compared to liquid?
Foam adhesives take around an hour to fully cure, compared with up to 6 hours for liquid products
Foaming action can fill small imperfections in substrates and joints between insulation boards
When cured, foam adds insulation, aiding thermal performance
Newer low-foaming formulations such as Soudatherm 330 don't require walking in or weighting down
Foam adhesives are non-drip, so can bond onto vertical surfaces such as upstands
Newer gun-applied foam adhesives are more precise and therefore more economical, as you only use what you need and no product is lost after application. Gun-applied systems are also generally low maintenance as they can be stored for several weeks without cleaning
Technological advances mean that foam adhesives now provide a safe, fast and convenient solution for the installation of flat roofs; one that could well be worth considering for your next flat roof project.
SOUDATHERM ROOF CONTRACTOR PACK
The new Soudatherm Roof Contractor Pack contains everything you need – including an applicator gun – to bond up to 60m² of insulation.
GET TRAINED UP
If you'd like to become more familiar with foam adhesives and how they can help you work more efficiently, arranging training or site demonstrations by manufacturers is easy.
Soudatherm Roof Adhesives
Soudatherm Roof Adhesives are ready-to-use liquid polyurethane adhesives that bond insulation materials – such as extruded polyurethane foam, polystyrene, phenolic foam or mineral wool – onto horizontal surfaces, aged bituminous roofing membranes, etc. All variants:
Are solvent free so fully compatible with EPS
Offer excellent adhesive properties
Offer reduced weight and space