A Cornish roofer has been recognised as a 'Local Hero', thanks to his inspiring charity work. Ross Golder, of St Austell's Gold Roofing Cornwall, was shortlisted in the Local Hero category of this year's National Federation of Roofing Contractors (NFRC) UK Roofing Awards, sponsored by SIG Roofing.
The nod recognises Ross' ongoing fundraising efforts for Kids For Life, a charity supporting children and young people living with cancer throughout the UK. Having first become involved with the charity just two years ago, Ross has already raised a staggering £150,000 of vital funds.
Ross' generosity was recognised by staff at SIG Roofing's Newquay Branch, who heard regularly about his tireless commitment to raising money for such an important charity. The nomination was put forward by Ross' dad, Barry Golder, who said: "Ross' dedication to helping those in need is really inspiring. When Ross first got involved with Kids For Life, nobody could have predicted how quickly his fundraising would snowball. He managed to raise £90,000 in his first year alone – an incredible achievement which has made a real difference to the charity."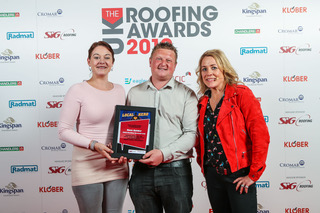 Alongside his charitable endeavours, Ross has also launched a company funded-'concierge' scheme to help people donate blood. During its last outing, the door-to-door service helped six donors give blood for the first time.
Speaking at the awards, Ross said: "It was a genuine surprise to find out I was nominated for a Local Hero award! Kids For Life is a relatively small charity but does such important work for young people with long-term illnesses and their families. I've been blown away by the generosity of people across Cornwall so far, and am looking forward to raising even more money for them over the next year."
Stuart Base, marketing director at SIG Roofing, added: "The Local Hero award is all about shining a spotlight on the very best the roofing industry has to offer, and Ross is a fantastic example of that. His tireless charity work, and a strong sense of community spirit is exactly what this award is all about."
SIG Roofing is the UK's leading specialist supplier of pitched, flat and industrial roofing solutions, with over 100 branches located across the UK.
For more information about Gold Roofing Cornwall, please visit: https://www.goldroofingcornwall.co.uk
To learn more about Kids For Life, please visit: https://www.kidsforlife.org.uk
For further information, please visit www.sigroofing.co.uk or follow @sigroofing on twitter.