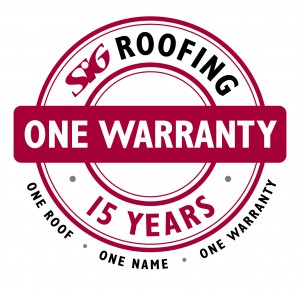 Background to the project
Heritage Roofing & Renovation Ltd (HR&R), ONE Warranty registered contractor, was tasked with proposing the materials and installing an appropriate re-roof of a private home in a residential built up area in Horsham, Sussex, South East England.
After several site visits and liaising with SIG Roofing's Horsham branch, HR&R selected the materials required from batten to covering. As a result, the project qualified for SIG Roofing's ONE Warranty – a single-package warranty that allows contractors to enjoy having a single warranty covering all the key elements of the roof. Furthermore, ONE Warranty offers the peace of mind that comes with knowing it's backed up by SIG – a FTSE 250 Company.
Details of the project
HR&R elected to use a handmade clay tile from SIG's SIGnature range, Holmbury Blend. This dark sanded plain tile with orangey red undertones is from selected clay reserves, kiln fired to ensure distinctive tints and tones of colour. This process results in a naturally blended appearance which both the contractor and homeowner felt complimented the building and its environment perfectly. Holmbury Blend was the choice of clay tile for the entire roof covering, including the ridge tile – half round being the ridge of choice.
As well the roof covering, from the suite of products high quality products that qualify for ONE Warranty, HR&R opted for SR Timber Premium Gold Batten – a fully graded roofing batten, as well as TIL-R breathable membrane and FIX-R Paints & Primers to complete the specialist finish to the job.
Despite being a generally straightforward job for a contractor as competent as HR&R, it wasn't without its challenges – the main challenge being negotiating the flat roof section. From the time taken to lay the system and for it to dry, then to vertically hang the SIGnature clay tiles on perpendicular roof verge, it proved a tricky obstacle that required careful maneuvering.
John Hilden, Managing Director of Heritage Roofing & Renovation Ltd commented: "We're always quick to recommend SIG and its products to our customers. We are also very comfortable working with SIGnature clay tiles and are always more than pleased with the quality. Big thanks must go to the team at SIG Roofing in Horsham – their assistance and knowledge is second to none. Our feedback from the homeowner has also been nothing but positive, which is the most important thing for us. Being a ONE Warranty registered contractor also allowed us to have peace of mind and enjoy the ease of administration that it provides."

The finished article!