BSI's new Standard for the design and manufacture of metal gutters focuses on the strength and structural capability of rainwater products, making it much easier for installers to choose the right material for the job.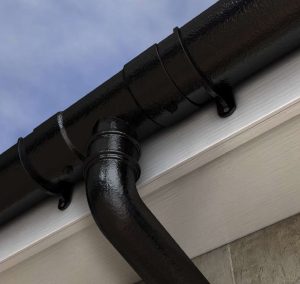 Rainwater systems are integral to the protection of buildings, particularly as our climate is becoming warmer, wetter and windier. And, with extreme weather events occurring more regularly, the development of new standards, regulations and testing methods help installers ensure the products and solutions they use are fit for purpose.
The new BSI metal guttering Standard BS 9101:2017 focuses on the strength and structural capability of rainwater systems and covers steel and aluminium rainwater systems specification. It will ensure all metal gutters, regardless of material, meet minimum strength levels and are fit for installation in the UK. As a result contractors will have greater confidence promoting metal rainwater systems and the durability to expect from the products they use.
This is a welcome development, as if you're committed to building a reputation based on trust and quality workmanship you'll recognise the clarity these Standards bring and the benefits they provide. BS 9101:2017 specifies the requirements for the design and manufacture of metal gutters on industrial, commercial and residential buildings. This includes materials, tolerances, mechanical properties, surface conditions, coatings, jointing methods and fixings, including fittings/accessories for assembly/support.
The new Standard also emphasises the design strength of the metal gutter as determined by its loading capabilities of downward rain, wind uplift and snow.
Previously, the industry had referenced a variety of Standards to cover everything from traditional cast systems, pressed or extruded gutters. This meant standards were often still open to interpretation and applied to the material, not the structural strength of the product.
The new BS 9101:2017 is more comprehensive and covers both specific metal sheet and extruded gutters. It raises the bar for metal rainwater projects and is essential for the protection of our buildings.
Manufacturers, like Alumasc, give support and technical advice for specifying and installing metal rainwater gutters. Keep up to date with current Standards and your customers will have peace of mind that your jobs are correctly specified and buildings are protected all year round.