To keep gutters clear, use the hedgehog brush all year.
What a great add on to help your customers.
Manufactured from polypropylene brush filaments cleverly spun around a stainless steel wire spine, the Hedgehog is virtually indestructible and comes with a ten year product guarantee.
Leaves just blow of the Hedgehog brush, allowing rainfall to flow through gutters freely and easily. Any leaves or twigs that may become trapped in the Hedgehog brush filaments will eventually break down into tiny particles and wash through gutters giving peace of mind for years and years.
The Hedgehog brush is 100mm in diameter x 4 metre's long as standard and will fit the majority of gutter profiles, other sizes are available to suit larger commercial applications or box gutters and come in either Black, Brown or White.
Solves blocked gutter and drain problems
Fitted in minutes lasts for years
Fits most types of gutters
No more overflowing gutters and drains
Avoids ladder climbing for maintenance
Adapts automatically to the shape of any gutter
Avoids the need to call in costly professionals to unblock gutters and drains
Fits around corners and over down pipe outlets
Does the job it was designed to do perfectly!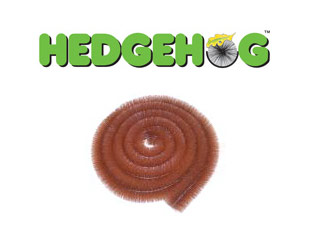 An easy to fit solution to an ongoing problem.
Call your friendly local branch to find out more about Hedgehog Gutter Brush.