To help conform with the Control of Noise at Work Regulations 2005, Marcrist have introduced the Marcrist BF850 SilentMax range of blades, available in the following sizes;
115x22mm, 125x22mm, 150x22mm, 180x22mm, 230x22mm & 300x20mm
This model is much quieter than the previous model, making it the quietest blade on the market. This reduces the risk of hearing damage, and resulting claims. It also reduces the liabilities of the contractor, and makes it much easier for them to comply with the Control of Noise at Work Regulations 2005.
Marcrist warrant the blade's performance on several levels:
The lowest cost per cut
The fastest cut
The longest life
Up to 16x quieter than a conventional blade – or your money back; 30 Day Money Back Guarantee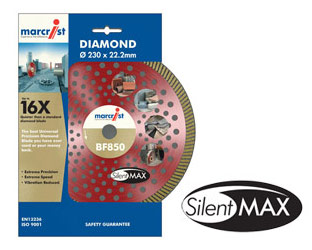 Please contact your local branch before travelling as not all branches will stock this product and in all sizes.