It's a 'Bute'y!
Russell Roof Tiles' newest tile is a thing of 'Bute'y and growing in popularity every day!
Introduced into Russell's Natural Range two years ago, the Bute tile is already standing proudly on houses across the country. However, these tiles are not so easy to spot…
That's because although Bute is made from concrete it can provide the same natural look as clay, stone or slate while still being long-lasting, cheaper and easy to fix.
What's more, Russells' recent upgrade in technology means you don't have to wait long to get your Bute tile – just four weeks.
It's no wonder so many have jumped on the Bute bandwagon.
---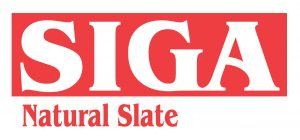 A natural alternative to native purple and green slates
SIGA 140 and 150 are slightly textured natural slates, with a purple and green colour respectively. Quarried in Vermont USA by UK slate experts and formed from the same plates that grace our own shores – making them suitable to meet the aesthetic requirements for roofing work in Britain. As UK production of natural slate has reduced recently due to the limited availability of suitable rock in UK quarries, SIGA 140 and 150 offer a readily available alternative that avoids lengthy lead times.
Tested by the ASTM, achieving the highest prediction of life service Grade 1 (American Society for Testing Materials), CE marked and with a T1 rating for thermal cycling, both are available in 7mm thicknesses and come in a variety of sizes.
To find out more, please visit: www.sigaslate.co.uk/siga-range/excellence/siga-140/
---
Dry verges to meet and beat BS 8612 from Redland
Redland has launched two dry verge products to coincide with the publication of BS 8612 – the new standard that ensures dry fixed products are adequately designed and installed to be fit for purpose. Redland's new DryVerge and Rapid DryVerge are specifically designed to meet BS 8612 and to be best in class.
Moreover, they are also even easier and faster to fix than their predecessors. The verges feature a particularly effective stop-ended starter unit that makes it far harder to get fitting wrong – minimising the risk of corrections and call-backs.
---
Permo® extreme RS SK2 withstands the weather
Recent BRE tests have proved that Klober's Permo® extreme RS SK2 roofing withstands UK weather without the need for support boards.
This means savings in time and materials. Klober estimates removing the need for boards and counter battens will save at least £8 per m2. The underlay is tear-resistant and designed for use on low pitched roofs. It can be used at 12.5° or more for profile tiles, 15° for slates and 22.5° for plain tiles. It is made from PES fleece which allows vapour to escape, while keeping water out.
---
A Vulkem Quick solution…
Sometimes you need a liquid waterproofing that looks great while bridging cracks, withstanding heavy traffic and countering the effects of UV rays.
The Vulkem® Quick System is the answer. The different components that make up the product cure to form a highly-elastic, foot trafficable waterproofing system which is suitable for installation on old or new concrete, tiles, metal, wood, epoxy and other types of existing deck coatings.
Use on frequently used areas such as balconies, terraces, pedestrian bridges, stadium decks, entrances and exits, staircases etc. Its decorative finishes include coloured quartz, uni-colours or colour flakes that can help transform dull spaces.
Find out more: http://bit.ly/VulkemQuick
---
Focus on plain tiles
Traditional plain tiles create highly desirable roofscapes and have been in production to a standard size since 1666, when the Great Fire of London led to the creation of the first product standards.
These plain tiles are small and rectangular in shape and have always been 265mm x 165mm in size, meaning 60 tiles are required per square meter.
They work by overlapping up to three tiles to create a fully - watertight layer, adding detail and texture to the roof. Clay plain tiles can be machine made or handmade, with handmade creating a classic rustic appearance.
Speak to us in branch to find out more about Wienerberger's clay tile range.
---

Working at a good clip
TIL-R Tile Clips are easy to fit single piece clips, which can be used with most roof tiles from leading UK manufacturers, without compromising the performance of the roof.
They are easy to fit single piece clips made from galvanised carbon steel, which remains more rigid than stainless steel, and are suitable for all exposures throughout the UK, without the need for nail or clip threading.
The clips can be used along with TIL-R Dry Fix Ridge Kits and Pitched Roof Underlay to provide a secure, BS 5534:2014 compliant, roofing solution. They also come with a 15-year guarantee and form part of SIG Roofing's single package ONE Warranty.
Find out more at: www.til-r.co.uk/products/tile-clips
---