How following best practice can guard against wind uplift on slate roofs.
When you're planning a slate roof, there are several connected factors to consider before you start, such as; the sites exposure to rain, the degree of the pitch and roof structure, wind loads and uplifts and the minimum headlap for the size of slate selected.
The minimum headlap is a particular detail that is important to bear in mind when it comes to the roof verge, especially as correct installation at the verge is often misunderstood. It is vital to get this right as the perimeter of the roof is the most vulnerable to wind suction loading and as such, secure fixing of the verge slates will contribute to creating a long-lasting roof covering.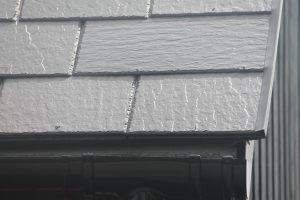 BEST PRACTICE FOR VERGE INSTALLATION
The verge is formed from alternate courses of slate and a half (cut from double slates) and single slates. This is where the confusion lies. The second under eaves course should be a slate and a half, as should alternate verge slates. Rather than use a slate and a half, many roofers will cut a normal size slate in half and use that, to create the broken bond. This looks aesthetically pleasing, however doesn't give adequate wind uplift resistance.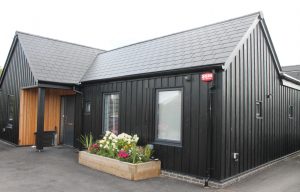 To install correctly and make sure the roof is secure, follow these simple steps:
• The first full slate will need an additional hole (batten gauge plus 25mm from the tail) to accommodate the rivet for the next slate and a half
• This next slate and a half will need three nail fixing holes on the batten line: two rivet holes to hold the tail and an additional hole to accommodate the rivet for the subsequent single verge slate
• When trimming to verges, valleys, and hips, avoid using pieces less than 150mm wide. If possible, use a slate and a half with the cut edges protected with a dry fixing system to prevent cement run off due to exposure to weather
Years of experience of both successful slating practice and failed roofs is enshrined in the British Standards code of practice. Therefore, following the correct Standard and procedure for installing verges will ensure there is enough fixings at a location where the roof is vulnerable to wind upload and help ensure the roof is robust enough to withstand even the harshest conditions.