Click on the link below to jump to the story you want to read:
---
James ends on a high after 60 years at SIG Roofing
82-year-old James Perrot is finally bidding a fond farewell to the job he loves after working for SIG Roofing for the last 60 years. His retirement also brings to an end a 34-year stint working with his son, who is now his boss!
The former asphalt roofer joined Wedge Roofing Centre – a specialist roofing supplies merchant that has since become SIG Roofing – back in 1958, rising to become Branch Manager of the Barking branch.
Reflecting on his 60 years' service, James said he'd loved his career: "Working for SIG Roofing has been my life, and I've been very lucky to have worked with my son. My last day will be a sad one, but it's the right time to retire.
I'm really going to miss all the roofing contractors whom I've got to know over the years, who have become more like friends than customers because I've seen them day in and day out for years."
James embodies everything SIG Roofing strive for in having friendly and very knowledge people in their branches to support the UK roofing sector. He now plans to spend more time with wife Irene, and the first thing they'll do is go on a holiday that was a farewell gift from SIG Roofing.
---
Pam Milbourne retires from SIG Roofing Gateshead
Pam, who retired on the 29th March, joined Marley Eternit when she was a mere 16 years old, working in the sales office – she joined SIG Roofing as a temp and then became Assistant Branch Manager at the Gateshead branch. In that time she has worked with all of the large contractors in the north east and is known by pretty much every roofer in the area.
Colleagues and customers held a surprise meal to celebrate Pam's retirement and thank her for being such an amazing asset to the branch. She is taking early retirement to spend more time with her family and we wish her the very best for the future.
---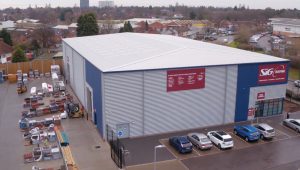 SIG Roofing embarks on major branch refurbishment programme
SIG Roofing is investing heavily in modernising a quarter of its 120+ sites across the UK to improve the experience for its customers.
30 branches, stretching from Gateshead in the North East to Lewes in the South and Porth in the West, will undergo a facelift and extensive internal refit to create new trade counters, more display space and the opportunity to showcase a host of new products.
Using extensive customer feedback the aim is to make the branches as customer-friendly as possible in a bright and modern environment. Refurbishment work has already been completed on the first three branches in London, Bournemouth and Manchester, with the remaining 27 set to be finalised over the next seven months. SIG Roofing Cheam, is one of the branches which has already been given a major makeover with an external facelift and extensive internal refit.
The improvements can be seen across the refurbished Cheam branch, improving the customer experience and creating a more welcoming environment for its wide range of customers. The branch recently celebrated by holding an open day to showcase the new appearance and layout, with both new and existing customers enjoying bacon sandwiches, meeting technical specialists and taking advantage of special offers.
Branch Manager, Kevin Baillie commented: "From the feedback we have had so far, everyone is delighted with the improvements and the new look."
Our completed refurbishments are as follows:
Manchester Arrow
Bournemouth
Bristol Ashton Vale
Gloucester
Portsmouth
High Wycombe
Bristol St Phillips
Sittingbourne
Bristol Barton Hill
Reading
Bishop Waltham
Make sure you pop in to your local branch and check out their refurbishment!
---