The roofing batten business has changed beyond recognition since SR Timber Managing Director Shaun Revill joined it over 25 years ago.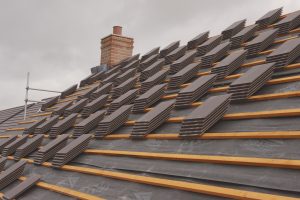 Back in the early nineties batten was often considered a fairly anonymous product, sometimes lumped together with fencing and tucked away in the corner. Not any more. Fast forward to 20 18 and over the years batten has emerged as an essential component of the roof build up.
Drive around the country and there are a significant number of large new housing projects under development and the quality of the batten being used on most, if not all, is very high indeed. This hasn't always been the case; go back only a few years and you'd find a much greater mix in the quality of batten in use – a sure sign how quality graded batten has become an essential part of the roof build up.
But what changed? According to Shaun there are three main factors at play; BS 5534:2014, batten size and the country of production.
BS 5534:2014
The 2014 changes to BS 5534 detail how and when graded batten should be used. In reality, the industry had been moving towards the British Standard in the years before it was introduced because of companies like SR Timber setting higher standards for their batten. This was married with the efforts made by various trade bodies such as the NFRC and the CompetentRoofer Scheme to come to a consensus on what the Standard should be and resulted in the introduction of BS 5534 which greatly impacted the quality and method of grading batten.
BATTEN SIZE
Shaun remembers when there were two main size choices of batten: 19mm x 38mm, which was used for slating and 25mm x 38mm. By the end of the nineties, 19mm was on its way out and 25mm x 50mm was starting to come into play – driven in no small part by safety concerns that would go on to become the backbone of a new British Standard.
COUNTRY OF PRODUCTION
Another crucial piece of the jigsaw has been the sourcing of raw materials from the Baltic states, in particular Latvia. The industry in Latvia has been supported from the government down in terms of developing the infrastructure and industry skills required. SR Timber, by establishing its own sawmill in Latvia, now have complete control of the batten manufacturing process from the forest to the roof. This means they are in control of the whole supply chain, which is a key factor in ensuring that batten is produced and graded correctly to the requirements set out in the Standards.
It's highly likely the batten industry will continue to develop and change over time. It's also likely that whatever those changes turn out to be, SR Timber will be at the heart of them.