Congratulations
…to this year's winners of the National Federation of Roofing Contractors (NFRC) prestigious UK Roofing Awards.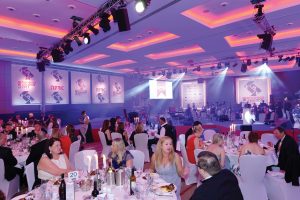 It is a celebration of our expertise and recognises and rewards those who have produced truly outstanding work. Taking part is a badge of quality that those involved can wear with honour throughout their future career. The winners were revealed at a memorable ceremony that took place on Friday 19th May 2017 at Park Plaza Westminster Bridge, London.
The winners across the eleven competition categories are as follows:
 Roofing
Skygarden Ltd working with Topek Ltd
Project: The Macallan Distillery
Metal Roofing
Roles Broderick Roofing Ltd
Project: Exeter College, University  of Oxford
 Roofing – Sponsored by Klober
Emerton Roofing (Western) Ltd
Project: The Boat House
 Roofing – Sponsored by Chandlers Roofing Supplies
K&M Leadwork Ltd
Project: Goring Clock Tower
 Applied Roofing and Waterproofing
Mitie Tilley Roofing Ltd
Project: North Terminal, Gatwick Airport
 Asphalt / Hot Melt – Sponsored by EagleView
Prater Ltd working with Radmat Building Products Ltd
Project: Fitzroy Place
 Bitumen Membranes
M&J Group
Project: Fleet Bank House
 Slating
Contour Roofing (Essex) Ltd
Project: St Joseph's College
 Tiling
Rowlands Roofing Ltd working  with Marley Eternit
Project: Quintain House
 Cladding – Sponsored by ECIC
Lakesmere
Project: Greenwich Energy Centre  (Optik Cloak)
 Ply Roofing
Carlisle Construction Materials Ltd working with Topek Ltd
Project: The Macallan Distillery
 Roof of the Year – Sponsored by  SIG Roofing
This award was presented to Rowlands Roofing Ltd in association with Marley Eternit for work on Quintain House. This award was chosen by the UK Roofing Awards judges from this year's winners.
In addition to the category winners awards were also presented to the following companies for their exceptional standards of workmanship and technical excellence:
 CITB Exceptional Contribution  to Training – this award went to Beverley Sexton of Jackson Jackson & Sons Ltd.
 Young Leadworker of the Year  (Lead Sheet Association) –  this award was scooped by Jay Stubbs, a self-employed leadworker trading as LDN Leadwork Ltd.
 Murdoch Sponsor's Award (Lead Contractors Association) – Celtic Leadwork won this award for its work on  a Primary School in Notting Hill, London.
 Murdoch Award (Lead Contractors Association) – Conservation Leadwork Ltd won this award for its work on Culham Court Chapel.
Commenting on the competition winners, James Talman, Chief Executive at NFRC said: "Congratulations to all our winners. The Awards is the highlight of the roofing calendar and this year was no exception. The judging panel was blown away with the quality of entries and every winner should  be proud of their achievement."
James added: "We would like to thank everyone that entered the competition  and all those who have supported the event, including the headline sponsor, SIG Roofing, for their continued support, and of course  all our sponsors."
Details of all winners can be found at www.nfrc.co.uk/uk-roofing-awards/2017-winners